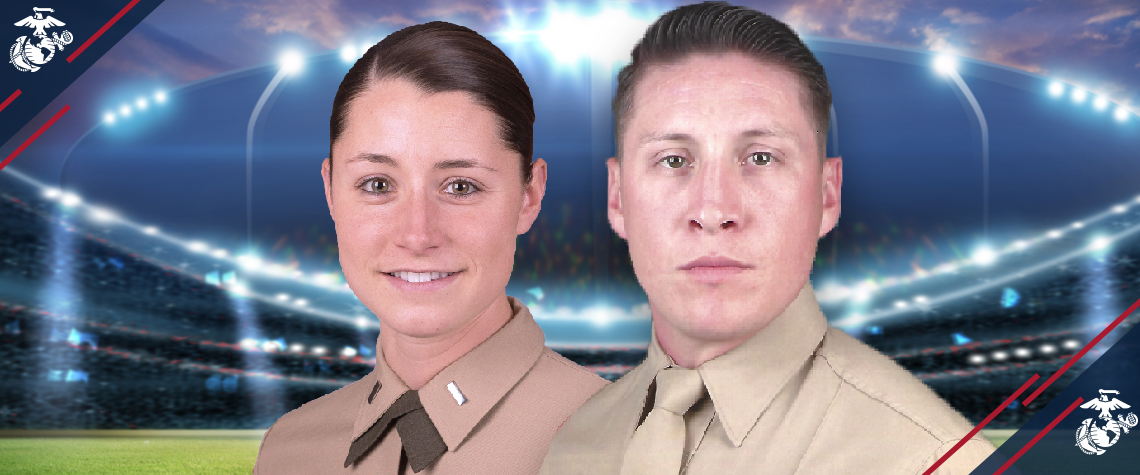 ---
Congratulations to 1st Lt. Lindsay R. Carrick, Officer Candidate School, MCB Quantico, Virginia, and Staff Sergeant Jason T. Pacheco, Wounded Warrior Battalion-West, MCB Camp Pendleton, California who have been chosen as the 2018 Marine Corps Semper Fit Athletes of the year. These outstanding Marines were recognized at the Commandant's Combined Awards Ceremony held at Marine Corps Base Quantico, on January 11, 2019.
The Marine Corps Athlete of the Year is awarded to one male and one female active duty Marine each year. The winners are chosen based on their athletic skills and how well they embody Marine Corps values. The most recent recipients are no exception with a remarkable list of accomplishments.
Carrick was a member of the All-Marine Running Team, All-Marine Cross Country Team, the All-Marine Warriors Across the Sea Team, and the All-Marine Marathon Team. In 2018, Carrick's athletic achievements include 1st place female finisher in the Virginia Beach Shamrock 8k; 1st place Marine (female) All-Marine Team, Warriors Across the Sea; 1st place Marine (female) All-Marine, Team, Navy-Air Force Half Marathon and 1st place Marine (female), 3rd overall, All-Marine Team, Marine Corps Marathon.
In 2018, Pacheco, was a member of Team West, Marine Corps Trials 2018 (Camp Lejeune); Marine Corps Team, DOD Warrior Games; Team USA, Invictus Games; and Wounded Warrior Battalion CG Cup Softball Team. Some of his accomplishments as a member of these teams include bronze (100m amputees), silver (1500m below the knee amputees) and gold (800m below the knee amputee). SSgt Pacheco was also awarded the 2018 DOD Disability Award for Continued Exceptional Service, as well as the United States Marine Corps Heart of the Team Award.
Marine Corps Sports Programs are designed to enhance the fitness and resilience of Marines and their families and functions to support alternative Physical Training (PT) options, military-to-military engagement, and the development of unit cohesion. Sports Programs are directly related to combat readiness and serve as the main mechanism through which a variety of programs, services, and activities are provided to Marines and their families. For more information on Marine Corps Sports Programs, click here.