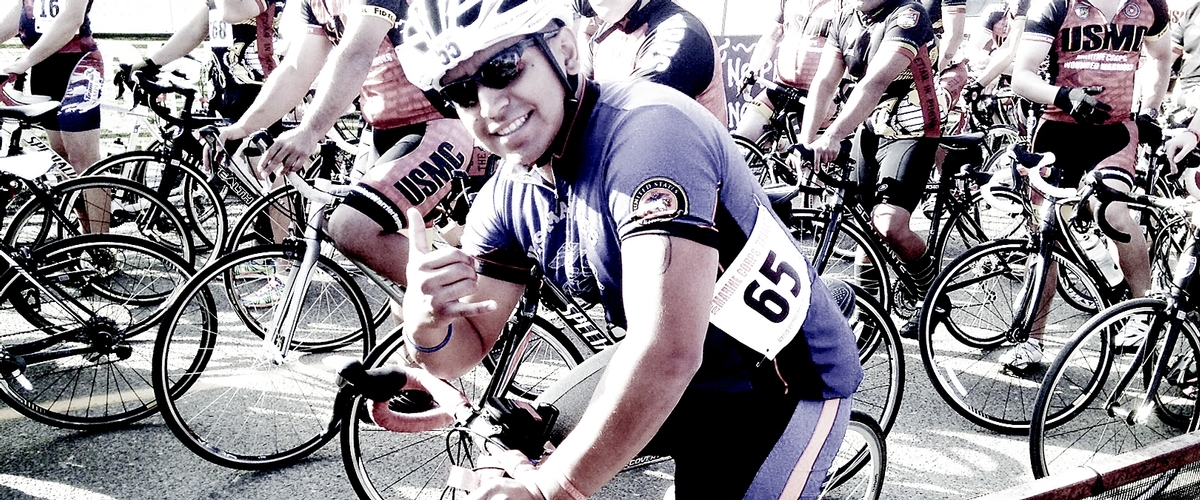 ---
Each year the Marine Corps Triathlon Training Team holds a camp to help develop and train Marine Corps athletes for upcoming competitions that lead up to the team competing at the Armed Forces Championship. During a four day Triathlon Training Camp, Marines tested muscular and cardiovascular endurance that required competitors to complete in five miles of swimming, 90 miles of cycling and 28 miles of running from March 16 - 20, 2017, at Marine Corps Base Camp Pendleton, California.
Capt. Mollie Hebda, 2016 Female Athlete of the Year, said triathlons are rewarding because they are hard. "Anything worth doing in life is going to be hard," said Hebda. "You make a lot of friends in a sport like this because it requires you to have training partners and suffer together. Triathlon is more than a sport, it's a community."
Hebda's advice to Marines is to start out small and just work on one of the disciplines such as running then combine the other two; cycling and swimming. Participating in triathlons is a great way to exercise and stay fit. Beginners should ease into a program gradually to avoid injuries.
Gunnery Sgt. Kenneth Bell, IMA Training Chief I MEF, started with cycling by commuting to and from work. Then he added swimming by getting a swimming coach to teach him how to swim for the triathlon. Bell had plenty of time to train and slowly added more to condition his body for the camp. "You can't be mediocre in all three disciplines, you need to train in all three," said Bell.
Triathlon training is an every-day event. "It is more like an attitude than a workout," said LtCol Joseph Galvin, Staff Judge Advocate, Marine Special Operations Command and Triathlon Training Team Coach. "Dedicated triathletes must not only condition their body, but more importantly, their mind and spirit to endure that day-in and day-out grind of trying to perfect the three disciplines of swimming, biking, and running."
According to Galvin, it is a delicate balance to train and improve in each discipline without degrading the other disciplines. Although not all three events need to be practiced each day, there are workouts that require a triathlete to combine two or three of the events in succession to prepare for the actual competition. "This takes a toll on the mind and spirit - sometimes it is shear will and determination that gets a triathlete on the bike after a long swim and, other times, it is the fear that your competitor is doing that which you should be doing" said Galvin.
Overcoming self-doubt and pushing yourself past the point of "enough" is what it takes to be a competitor. The quintessential goal is to have fun while overcoming these challenges and achieving team and personal success. Marines training for a triathlon or preparing to try out for the Marine Corps Triathlon Training Team must train in each discipline - trying to focus on those that are the most difficult for them. "Some are excellent swimmers, but need to improve on the bike and run," said Galvin. "These are the areas that require more attention - however, they do not want to forget about their strengths as those areas, if neglected, become a liability rather than an advantage. Triathletes must come into camp in shape and mentally ready to compete with others and with themselves."
The Camp is designed to allow Marines the opportunity to showcase their triathlon abilities and train with other triathletes - some that are currently on the Marine Corps Triathlon Team and others that are new to the sport. The Camp builds camaraderie among the athletes and demonstrates that although Triathlon at its core is an individual effort, it is also a team event. This team concept brings out the best in all of the athletes.
Marine Corps Sports Programs are designed to enhance the fitness and resilience of Marines and their families while supporting alternative physical training (PT) options, military to military engagement, and the development of unit cohesion. Sports Programs are directly related to combat readiness and serve as the main mechanism through which a variety of programs, services and activities are provided to Marines and their families. Marines interested in the next Triathlon Training Camp should contact their local Semper Fit and Recreation Branch.