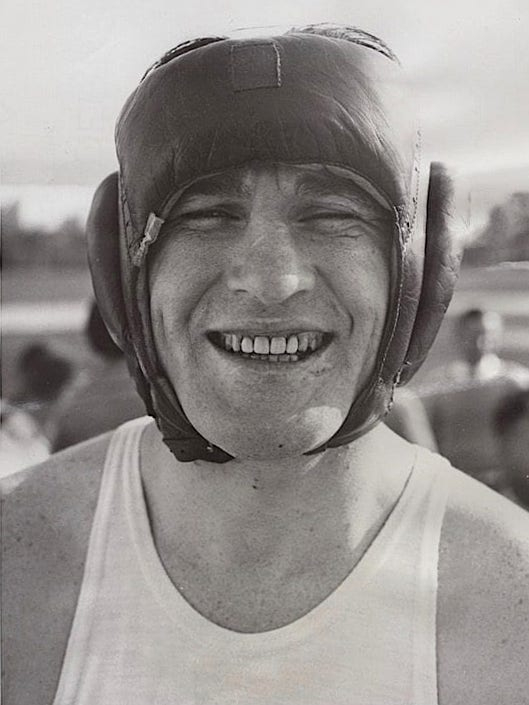 ---
Tommy Loughran was born in Philadelphia, PA on November 29, 1902. Known throughout his boxing career as the "Phantom of Philly," he was the 12th light heavyweight champion in boxing history and deemed, the most skilled boxer in the sport at the time. During his career, Loughran fought 12 world champions, ranging from welterweight to the heavyweight division. Loughran's effective use of coordinated footwork, sound defense, and swift and accurate counter-punching techniques served as a precursor to the skills practiced in modern day boxing.
In 1922, Loughran fought no-decision bouts against light heavyweight champion Mike McTigue, middleweight champion Harry Greb, and future heavyweight champion and Marine Gene Tunney. Loughran also battled such legends as Young Stribling, Jack Delaney and Georges Carpentier. A no-decision bout is otherwise known as a tie. More recently, in today's score system, a draw. Previously, there was no official scoring mechanism to determine a winner, as the referee or newspaper reporters declared the outcome. At the conclusion of the rounds, if both fighters were still standing and there was no knockout, the referee confirmed a no-decision bout. Due to no-decision bout, history assumes the Phantom of Philly fought in about 45 more bouts than documented. In approximately 1927, an official and documented scoring system was established. At this point, fights were accounted for more accurately.
Loughran finally earned a light heavyweight title shot in 1927, against champion Mike McTigue. Loughran, who was fighting McTigue in their fourth and final meeting, out-boxed the champion and won by decision. From 1927 to 1929, Loughran made successful title defenses against Jimmy Slattery, Leo Lomsky, Pete Latzo (twice), reigning middleweight champion Mickey Walker, and future heavyweight champion James "Cinderella Man" Braddock. Based on his performance, Ring Magazine named Loughran Fighter of the Year in 1929 and 1931.
Eager for bigger challenges, Loughran moved up to the heavyweight category and eventually beat heavyweights like Jack Sharkey, Max Baer and Paolino Uzcudun. In 1934, he earned a title fight against heavyweight champion Primo Carnera. The six-foot-five, 270-pound Carnera out boxed Loughran, who stood at five-foot-11 and weighed in at 184 pounds. Carnera retained his championship with a unanimous decision. Loughran finished his career in 1937 with 94 wins, 23 loses, 9 draws, and 17 knockouts. After hanging up his gloves, The Phantom of Philly joined the business world until his country called upon him.
At the outbreak of World War II, Loughran enlisted in the Marine Corps in 1942, serving as a physical fitness instructor. Loughran served at MCB Camp Lejeune before transferring to the Philadelphia Navy Yard in 1943. Loughran achieved the rank of staff sergeant before his honorable discharge in 1944.
After the war, Loughran settled back into civilian life. He was successful in business and was a sought after speaker. Loughran passed away in Hollidaysburg veteran's home near Altoona, PA on July 7, 1982. The International Boxing Hall of Fame inducted Loughran as a charter member in 1991.